River by the Glass
, A Collection of Poems by Monika Rose
Released, April 2011- 212 pages, 85 poems, photography by Tuolumne County talent Ron Pickup
River photography includes Tuolumne River, Clavey River, Stanislaus River, and more….
Publisher, GlenHill Productions, Soulsbyville
Purchase on this site.  $21.95, add shipping and tax: $28.50
Wild Edges: volume 6 of Manzanita – Poetry and Prose of the Mother Lode and Sierra
Editor: Monika Rose – Published Aug. 2010 – pub. Manzanita Writers Press – 216 pages featuring over 100 poets and fiction writers from California and the U.S. Over 30 photographers and artists featuring their work – a 16-page full color glossy spread by talented artists and photographers of the Mother Lode and Sierra – Purchase from Manzanita Writers Press for $15.00.  2,000 printed – 1,000 remaining       
add tax and shipping
 Some of the writers featured: J.P. Dancing Bear, Mara Feeney, Taylor Graham, Ted Laskin, Linda Field, Jim Lanier, Ron Pickup, Helene Pilibosian, Jackie Richmond, Monika Rose, Andy Shupala, Allegra Silberstein, Laura Snyder, Norine Radaikin, Jackie Rogers, William Keener, Bill Gainer, Michael Lee Johnson, Brad Buchanan, Zoe Keithley, Shelley Muniz, Joseph Milosch, Kathy Isaac-Luke, Kevin Arnold, Moira Magneson, Barbara Leon, W.F. Lantry, Carol Ann Lindsay, James Jacobs, Jodi Hottel, Gail Entrekin, Johm Fitch, Maureen Flannery, Lara Gularte, Dianna Henning, Lisa Gelfand, Connie Corcoran, Sandy Crepps, Chrissy Davis, Donald Anderson, Dawn Bonker, David Anderson, Marta Brady, Barbara Bass, Tim Bellows, Gary Cooke, Alan Cohen, Leslie Bailey, Marcia Adams, Glenn Wasson, Dorothy Wake, Andrena Zawinski, Patricia Wellingham-Jones, Daniel Williams, Paul Willis, Brigit Truex, David Sullivan, Michael Spinetta, Robert Walton, Anne Wilson, Paula Sheil, Dave Self, Michele Rugo, Dave Seter, Scott Siegel, Anne Privateer, Mark Redfearn, Marie Ross, Nick Samaras, Zara Raab, and many more…
Cover photo by Paul Neal
Manzanita Volume 5 – released Sept. 2008 – 1,500 copies published – 400 remaining
Over 100 writers and artists featured – still in print
 – cover photo by John Doane
Editor: Monika Rose
Published by Writers Unlimited, sells for 15.00 plus tax, shipping
 Back cover volume 5 – photo by Ron Pickup
Poem by Jackie Richmond
Manzanita – volume 4  – over 100 writers and artists featured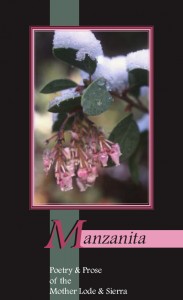 Editor, Monika Rose – published by Writers Unlimited, 2006
published 2006 – 1,200 copies printed – 50 remain – sells for 15.00
Cover photo by Ron Pickup of Soulsbyville – lovely Manzanita blossoms frosted by a surprise snowstorm in the late spring
Ted Laskin's collection of Short Stories and Essays
George A. Custer, Please Come to the White Courtesy Phone
Available from the author and Manzanita Writers Press
17.95 plus shipping and handling – 8.25 % tax – total: 23.00
Editing work: Monika Rose  – Ed. Manzanita Writers Press, 2010
Joy Roberts – chief editor  on the project
Glenn Wasson's collection of poetry, essays, and flash fiction
Tales Mark Twain Would Have Loved to Steal – revised edition
Editing work, Monika Rose, Joy Roberts: 2008 and 2010 (2 volumes)
Winner of the Readers Choice Humor Award
Available for 21.95   plus shipping, and 8.25 % CA tax
Total 28.50. 
Publisher: Manzanita Writers Press
Contact author via press
Getty Ambau's Young Adult Novel
Desta and King Solomon's Coin of Magic
Monika Edited: 2009 and 2010  (not exclusively)
Manuscript also reviewed by Lodi High students