You can purchase it right here with a credit card and it will be shipped to you ASAP!  Purchase Here!
Or you can purchase on Amazon:
https://www.amazon.com/Bed-Bumps-Monika-Rose/dp/0998691011/ref=sr_1_1?keywords=bed+bumps+book+Monika+Rose&qid=1583096995&sr=8-1
ABOUT THE BOOK
Bed Bumps is an early reader book about a boy who discovers that the bumps in his bed are more than an annoying problem. He soon learns that there is a price to pay for letting clutter get out of hand. Add to that a pesky sister and her strange pet. He soon learns some valuable life lessons about hording and taking care of toys, and in the meantime, comes to appreciate the little annoyances in his world that are a natural part of being a kid, while making a brand new friend along the way. This is a children's book for readers aged 3-8, approximately. Illustrations in watercolor are by the author.
Note for teachers and parents: At the back of the book are pages with exercises and drawing activities, with recall activities, speculation questions, and an opportunity for children to engage in the material directly, bringing in their own ideas and artwork. Teachers and parents are encouraged to make copies of the pages so that students can interact on their own pages multiple times as they grow with the book.
http://www.calaverasenterprise.com/community/article_8595f976-10a5-11ea-9dcc-9bc3212cb560.html
Bedtime stories land in local writer's new children's book
By Mike Taylor
Dec 3, 2019 – Calaveras Enterprise – in Calaveras County
Monika Rose peruses her new children's book, "Bed Bumps," before signing copies on Saturday at the Manzanita Arts Emporium in Angels Camp.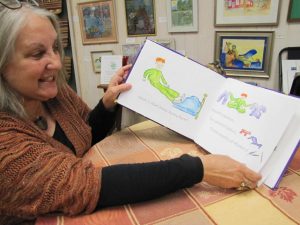 Monika Rose peruses her new children's book, "Bed Bumps," before signing copies on Saturday at the Manzanita Arts Emporium in Angels Camp. 
Enterprise photo by Mike Taylor
For some, working on others' behalf can stall progress on individual projects, and for Monika Rose, assisting fledgling authors with spreading their wings has been a big deal.
Rose founded the Manzanita Writers Press many years ago, a nonprofit publisher operated out of the Manzanita Arts Emporium headquartered in downtown Angels Camp. An English teacher at San Joaquin Delta College since 1998, Rose has helped many area authors edit and publish novels in fiction, nonfiction, historical and other genres.
She released River by the Glass, a 211-page poetry collection, in 2011, but work on her own projects has been systematically pushed aside in favor of helping new writers. Rose says she has two adult novels she is working on, but when she stumbled across a box of scribblings from her children's childhoods, she knew she had to publish them first.
It has taken the better part of two decades to do what she thought she would do as her kids grew up, and that's put the bedtime stories she told her son and two daughters to paper.
"I had to do it before the grandkids were too old," Rose chuckled from the art center at Manzanita Arts Emporium.
The notes and drawings she made more than 20 years ago was discovered about two years ago. The result of two years of work accomplished since is "Bed Bumps," a children's book she celebrates Saturday at the emporium.
"I had to put my other projects aside," she said.
Bed Bumps follows a boy who is a "clutterbug," as Rose refers to the child, who collects things from his life and stores them in or under his bed. A banana peel, an iguana (goofily drawn, she gleefully admits), household pets, books and more can be seen in watercolors that Rose created herself all those years ago.
"He's modeled after my son," Rose said. "But really, all my kids were like this."
She said she used to relay a collection of about five or six different tales she made up to her kids, and when she found the box of notes and artworks, she thought of her grandchildren.
"The basis (of the book) is a love of reading," Rose said.
The cover of the book features a whimsical cartoon drawing of a child in bed amidst a starry sky.
Without being too sing-song-like, the poetic story in the book is told simply, with a few poetic words or phrases repeated to emphasize ideas. An area artist, Donna Sammons, coacher her on the painting efforts and consistency, and the watercolors contribute colorful, whimsical visuals to the pages..
"It's got a rhythm and a rhyme," she said. "I love the learning that children can engage in with simpler stories that open imaginations wide."
Rose had to carefully map out the book so the text and appropriate watercolors were matched on the pages.
"Some of the drawings were okay," she said of the discovery, but others required a bit of modern-day doctoring … so kids could relate to the images."
"There are lots of little details," she said, acknowledging the work that authors and editors go through when planning publications for print. Since she has helped so many area authors do the same thing as a primary editor for the Manzanita Writers Press, Rose said managing those details has been a little more rewarding with her own book. But it was still a lot of work.
At the end of the book, Rose added activity pages to encourage young readers to dive into the story more deeply and appreciate the details in the fanciful tale. The pages are learning tools that are helpful with recall, creative application of the story elements, and fun with numbers and playful words.
Rose says the book is intended for early readers, perfect for a bedtime story, but she hopes the activity pages help little learners strive to get more from what they read. "Something not in the bed is mentioned, but it's found in the story; what is it?" she read from one activity. "They get to go back to search and discover the answers from the text and the illustrations."
And the intended audience isn't the only group that has embraced the new book.
"I think it's necessary to bring out the inner child inside of us and play a little," Rose said. "This book has tickled adults when I read it aloud to them, as it brings back memories of childhood."
Other stories that may wind up as children's books include a tale of a porcupine that's far too difficult to get along with, a child who invents a clean-up machine, and an early reader she's tentatively calling "Ugly Bugly," which is a twist on "The Ugly Duckling" fairy tale by Hans Christian Andersen.
"Bed Bumps" is feted at an event at 4 p.m. Saturday at the emporium, 211 S. Main St. (Highway 49), Angels Camp, where Rose will read a bit of the book, tell a story, and sign copies of her new creation. The event is free to attend, and the book sells for $21.99, available online at Manzanita Writers Press website store, or from Amazon.
Releasing her own book is exciting, but even as the title hits bookshelves, Rose encourages others to put their stories to paper.
"I encourage people to follow through on their creative projects and don't wait too long," she said. "I plan on following my own sage advice, dished out to other writers in our community, and carve out more time to complete my numerous writing projects, including a series of novels, short fiction, a new poetry collection, and more children's books. What fun! It's time to take them off the back burner and set them to full boil."
For more information, call 728-6117. Or email manzanitawp@gmail.com. Visit the Manzanita website at https://manzapress.com